Pope Smashers
Sacramento
1992-1999

Violent and twisted nightmare-scapes inspired by Sonic Youth and the Fall. --ss
Sometimes they were great, and sometimes they sucked. Not much mediocre stuff, it was all or nothing. -- dave

members:
Scott Soriano, saxamaphone, percussion (quit after a year - 1995-1996)
Mikel Guis, drums
Darrin, guitar
Curt Cottrell, Guitar
Bert Caranza, vocals
James Pearce, bass
Mario Andrioni, guitar
Thomas Mackraness, bass
Margot

other crud:
Curt Cottrell thinks he may have played in about the first year of the band and wrote a few of their songs (that they recorded on their 7").
James Pearce wrote, "Curt played in the first year incarnation when I still played Bass, we
broke-up, I got together with Tom and Mario, and then Mikel and Bert joined us, we thought it might be a diff. band (hence our first show being under the name of Outrageous Sea Rovers), and in essence it was, we changed our name to Pope Smashers after the first show. Kurt had helped write the song "Carnival" that we recorded on the 7", but nothing else on there, but trust me, the song
is ALOT different from when Curt was playing on it.
First year incarnation and line-up:
Mikel - drums / Curt - Git / Darrin - Git / Bert - Vox / James - Bass
(we played four total shows with this line-up, two at House of Monkey, one in
some basement near 19th & P, and the First Alphebet Threat benefit show.)
One year later lineup:
Mikel - Drums / Mario - Git / Tom - Bass / Bert - Vox / James - Git
Scott S went on one tour and practiced with us for about 6 months before Mikel
ran him out with all his BS.
Dunno where the fuck Margot came from, maybe that was AFTER they kicked me out
and then broke up 9 months later basically. A year or two later we got back
together in it's second incarnation for a national tour with !!! - basically
broke-up again one week before returning, Tom decided he hated the band - :)
releases:
Pope Smashers tape (Pope Smashers, 1995)
This is a test ep (Sunney Sindicut, 1996)
Picture sent by Cheryl Hoffman.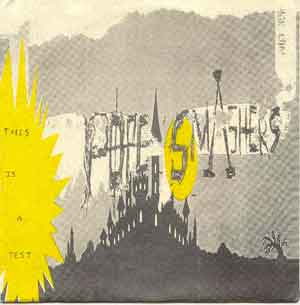 10-16-2
click here if a link brought you to this page
it'll return you to the main inbred page