November 23, 2004
Mondo Photo
Posted by deeann or lurch
Dave sent a bunch of pics with descriptions (actually, a few days ago- I was being lame and checking the wrong email account, so they are a bit late) but here they are! Click on the thumbnails to see the larger version- DeeAnn
***** From Dave *****
The greater Brisbane Area, including Mt. Tamborine and Mt. Nee.
Here's where I made it after the first few days. Up to Brendan
Kelly's to help sort out the bike and over to Ian McPhees then over to
Gav.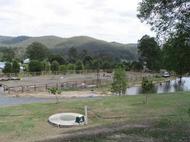 Ian and Col's 10 acres. It's a great lookout. The hills, mountains as the Aussies call 'em, in the background make for some great riding. You can see his pond (need to be able to put out fires on your property) and a horse. Can't see his
dog, or any of the crazy ducks and geese that hang out there.
---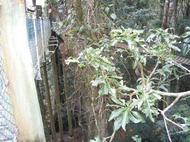 Ian McPhee took me out to O'Reillys National
Park. A great ride with crazy roads. No run out here, often with one
side being mountain, and the other being a cliff. They rarely use
guardrails in Australia. Coming down the mountain both Ian and I were
on reserve. Ian coasted down the mountain and put in 20.2 liters of
fuel into a 20.1 liter tank (those numbers are wrong, but it was that
low and that much "overfilled"). I made it back on reserve. We
climbed up a giant tree that no liability lawyer would allow a
National Park to have in the US, and took a walk in the treetops.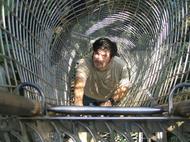 Shot by Ian of me. I blew it and didn't
get a shot of Ian in the same spot.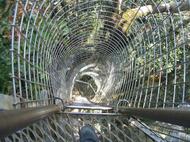 An empty shot down one of the
ladders where Ian had just taken a picture of me.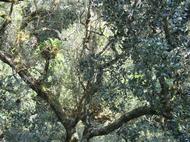 A shot from the top of the tree we climbed.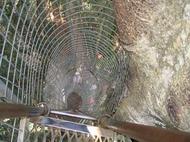 A shot down the first section of the climbing tree.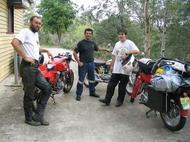 Ian McPhee (MHR minus fairing for some reason),
Gav (Ducati 250cc scrambler) and me outside of Gavs.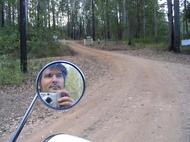 After leaving Gavs, I took a wrong rode and ended up at
Mt Mee. The picture is called Mt. Nee, but that's because Mt. Nee is
close to Mt. Mee. After riding a mile or two on a dirt road, it ends
at the national park with a sign saying you need permission to drive
or ride through there, so I had to turn back.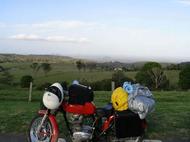 A few hills or mountains in the background. I
need to find out what is the definition of hill and background because
a lot of the hills I've seen have been mountains.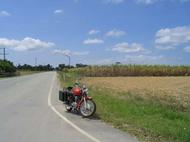 This was outside a sugarcane refinery. Not sure
which one but it was outside of the general Brisbane area.
---
Some random cars and motorcycles.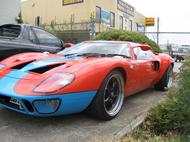 Found a shop somewhere around Brisbane that makes GT40
kit cars. They're much thicker than the real car -- you can't see
through the fiberglass like you can on the original Gulf cars.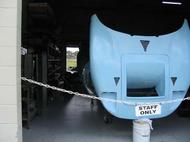 Here's the spot where they build them.
An early Valiant. Probably around 1961-62 range if it was
built in the US. I've seen a lot of these. They're not Plymouth
Valiants, just Valiants. The also made Valiant utes (trucks like an
El Camino or Ranchero). They still use utes in Australia instead of
pick-up trucks. There's plenty of stuff that we'd call pick-up
trucks, but there's lots of El Camino type trucks too.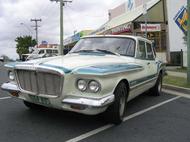 Gav's beautiful MV 125cc. One day I'll own a bike like this.
---
Made it from Gavs and out to Mackay where I limped in on a very leaky
fuel tank. Spent 10 or 12 days mostly at Bob Dummas and a couple
nights at Ramon's trying to get the tank fixed.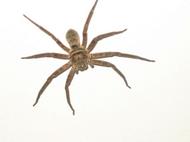 At Ramon and Rosa's house in Mackay. There was a
huge tarantula spider that was on the ceiling above the bed. Just on
my left from my pillow. Their cat wanted it, and I didn't, so I
pushed it off the ceiling with a Classic Bike magazine. The cat
didn't catch it, so I Iied awake wondering if spiders hold a grudge.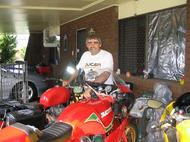 Bob Dumma put me up in Mackay while I sent off my tank to
get fixed. This is Bob, his MHR mille (much nicer shape than Ian's
MHR that I dropped), and my bike. The chair were I'd drink Bundys
(straight from a mixed can or I'd mix my own out of a bottle of rum)
is right behind Bob. The chair were I'd sit and watch drunk parrots.
Jenny, his wife, and Brock, his son aren't in the picture. My
mistake.
Brock Dumma took me on a tour of the coal dock that he
works security at. It's at Hays Point and is the biggest black coal
dock in the world. The road out to the ship loading points is 2 km
long. The bridge out is way off in the distance.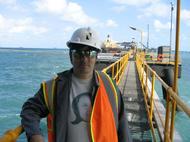 To get the special tour of the coal dock, usually
meant for Big Wigs and not slack-jawed yocals like myself, you have to
wear boots, a heavy work shirt, a Day Glo Orange vest, Safe-T glasses,
and a hardhat. Luckily, you can see one of my favorite shirts. Nope,
I don't know her. The shirt came with my old apartment. Coal dust
covers everything. Huge conveyer belts wheel it out where it's dumped
into ships.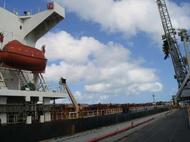 They usually go to New Zealand and China,
if I remember correctly. The orange parts are the hatches where they
spread the coal out in. A giant tube is moved around to keep coal
from piling up in one spot and sinking the ship.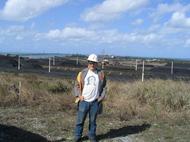 Me in front of most of the coal yard. It's friggin'
huge. Where the coal is loaded on the ships is about 2 km away from
the beach. The racks you see between the coal piles are the conveyer
belts that take it out to the ships.

---
On my way up from Bob Dumma's to Pat Hawke's house outside of Cairns,
so I could make it to the Bevels and Bullshit ride. I stopped at a
camp site (where my headlight rattled out) and met up with Jack Green
and his wife. Jack walked up with a cold beer for me and said,
"thought I heard a bevel". He used to race bevelhead Ducatis and
helped build the first (or maybe 2nd) monoshock bevel around 1984.
They fed me, and Brendan from Korea, beers and ravioli. I can't
remember Brendan's Korean name, but he's using Brendan while he's
here. He got DUI'ed and lost his license. And as I've heard, losing
your license in Australia happens to everyone.
Jack had video he took from the Isle of Man and showed me some
highlights of Stone, an Aussie bike movie made around 1974 by bikers
for bikers. I can't wait to see it. They gave me some good tips
about seeing the Isle of Man (it's on my schedule).
Jack and Noeline are driving around Australia in an Oka.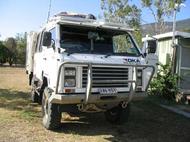 An Oka is a 4 wheel drive motorhome built in Australia. Sort of a
Unimog, or Humvee if that'll be more familiar, with a long body.
Great airconditioning I heard. Jack Green, the owner also told me
that they'll still drive even after being hit with an RPG -- the same
kind of rocket used against in the US seen in Blackhawk Down.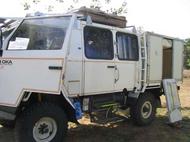 Another shot of the Oka.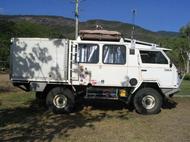 Another shot of the Oka.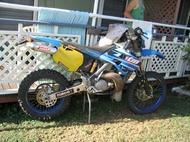 Here's my soon to be famous shot of Jack
Green and his TM. An Italian made 2-stroke dirt bike that I've never
seen before. With my amazing camera skills, I cut off his head.
Usually I check for this sort of stuff, but not this time. I'll email
Jack for a picture of him and his wife Noeline.
---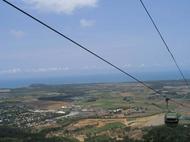 This is a picture back towards Cairns and the Pacific
Ocean. The same part of the trip where I figured I should skip doing
tourist stuff because it makes me lonely not being with someone.
Traveling is fine, but seeing neat stuff without a girlfriend present
sucks.
(comments are closed for this entry)

Posted by deeann or lurch at November 23, 2004 10:30 AM