Round 2 Begins: India!
Posted by gornzilla
Remember this? I barely do. I'm getting ready to start Round 2 of my trip. This time it's India style.
My birthday cake that Keri made me (my friend Keri, not my sister Cary). Keri's 6-year-old daughter Lydia made me a really nice card that she taped 71 cents to for luck!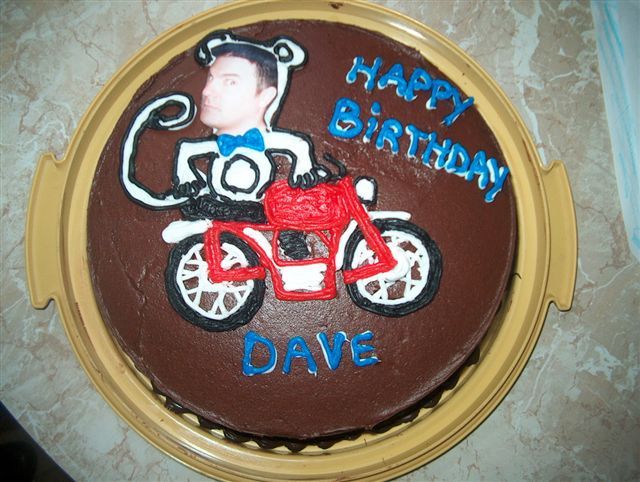 I like that it's been a year since I updated this so if you don't pay attention to the dates on the last one, it seems like it's only been since last month.
I was planning on leaving last year but life bit me in the ass again. It would've been nice being at the 50th Anniversary of the Motogiro d'Italia and at the 100th Isle of Man. But that wasn't going to happen. At least some good things happened.
My neurologist said he didn't think I'd have any more seizures, so I'm off the anti-seizure medication. If you're new here, I got my head busted wide open in a profitable mugging (they made $23 dollars!) and I ended up in a lovely vegetative state. Someone was smart enough to wave a beer under my nose and I came around.
I was going to ride across the US, fly me and my bike to the UK and it was East to California! Now, I'm going on tour with the Bananas, a punk rock band. The first show is May 2 in Minneapolis, Milwaukee, Chicago, Cleveland, Pittsburgh, Philadelphia, NYC, Washington DC, Richmond, Asheville and ending up in Chattanooga, Tennessee on May 14. If you think you'll be at any of the shows, let me know. It's always nice meeting people.
I fly to Delhi, India on May 20. I've got a friend in Varanasi, India and I'll be there until my bike shows up at Port Haldi outside of Kolkata (Calcutta to us yanks).
My cell phone will still be 916-307-3607 until end of May. I doubt I can check it from India so May 20th or thereabouts should be the last day you can crank call me. I always always fall for "is your refrigerator running?" I won't have a phone in India because I like being unreachable. I'll check email when I can.
I hope to make it all over India, and visit the Royal Enfield Factory. China and Southeast Asia will be next.
I'm not sure if I can bring my bike into China. I'm hoping they'll open up more for the Olympics but if not, I'll store my bike somewhere and buy a bike there.
I've been busy getting all the shots and doing the random stuff you do when you're leaving the country. Part of that is doing the errands that I should've done the minute I got back. There's a book I borrowed from Nigel in New Zealand, and a few bottles of moonshine that goes to some Aussies, that I need to send out. Somehow with them sitting in my room, it seems like my trip hasn't ended. I reckon since I am leaving (this time for sure!), I no longer need them as reminders. I should have my NSU Sport Prinz and Norton Commando up on eBay by the end of the month. I love them both but I need the money to travel on.

Posted by gornzilla at
08:42 PM
|
Comments (3)