March 20, 2005
I think I left the coffee pot on...
Posted by DaveSmith
My hot car! Combined with free Ducati motorbike repairs and free shipment from Christchurch to Melbourne.
As I said, but it didn't seem like it got any attention based on the email hubbub, Phil (Road and Race) is a nice guy, but I don't think he should be a mechanic. The many oil leaks started on the second day which describe the exacting standards the bike was built to. And from what I've heard, when he sells you something that isn't as described, he doesn't have a problem with returns. I'm not saying don't buy parts from him (that's another shop in Australia). Like everyone said in Australia, "Buy parts from him, just don't let him work on anything". I'm sure he's still pissed at me though but if I see him, I'll offer him a beer.
I didn't rev the hell out of the engine. It spent most of it's time in 4th or 5th at wide open throttle. Good for about 95 k an hour, although the plate Ian Gowanloch put in the engine to keep the piston from hitting the top end slowed the bike down to about 90k. You notice the difference on a slow bike.
Bob Brown, the crazy motorcycle engineering genius at Melbourne Desmo Center, said he'd fix the bike if I got it to him. And Dave Milligan from Get Routed said he'd ship the bike from Christchurch to Melbourne for free. So if anyone out there wants work done on their Ducatis, talk to Bob Brown. He works on the old stuff and the new stuff, and since Ducati ripped off some of his ideas for their bikes, you know he's good.
And if you're shipping your bike to or from Australia, New Zealand, the Isle of Man and soon to be Canada, look up Dave and tell him Dave Smith sent you.
Bob has the busiest shop I've seen and he works alone. There were 30 bikes in there, plus a couple engines, when I showed up. It's better if you go there, because he'll tell you what to do and explain what the problems are. But I think he'll take shipments. Maybe if I talk him up enough, he'll start working on singles on a regular basis again. Although most people don't ride them, they just collect them. No web page for Bob though, but I'll make a page of helpful links for other nuts to use with his address and phone number.
Enough about that, I hope.
Here's a bitching shot of my Nissan Bluebird for the next month that I'm in New Zealand. I bought it from Laura Ruhl and Johny Varsami, a German couple at a place that caters to tourists buying and selling cars. They just provide the space, not the buying and selling. I paid NZ$500 and told Laura and Johny that if I sold it for more in Auckland, I'd send them half of what I got. The car was in Christchurch and I'm in Amberely. It's about 50k away (an hour) and Laura and Johny didn't want to spend their last night in New Zealand by following me back to Nigel's house. I could've hitch-hiked into town, but I didn't. I thought of something crazy instead.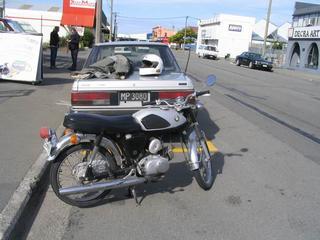 I wanted something that I couldn't buy in the US, but there weren't any Fiat Unos for sale and the late-1970s Valiant Charger with the hemi slant six engine with the 6 Pack of carbs was too much money. I came super close to buying a Wolseley (a rebadged Austin 1800 which is a Mini with a larger body so they overheat in hot climates) or a Hillman Hunter. Maybe I should've got a Honda City to fit with the micro bike theme. No point in buying a motorbike, as it's going to be winter here soon and it'd be harder for me to sell.
1969 Wolseley that didn't sell at NZ$800

1973 Hillman Hunter that did sell for NZ $700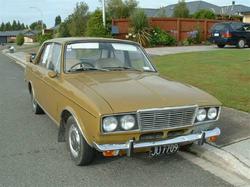 Notice the 1968 Suzuki 50cc? Nigel Marx lent me his 1986? Honda VFR 750 (Interceptor in the States) but that wouldn't fit in the back seat. So I borrowed his Suzuki and put that in the back seat. It fit no problem, although I did break the mirror because I'm an idiot.
Hard to tell it's in the car.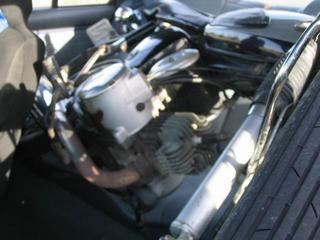 I thought I got a picture of Valentine, the German hitch-hiker that I picked up, but it didn't come out. He fit in the backseat under the front wheel of the Suzuki. I should check the pictures more often and put the digital part of the digital camera to good use.
So my plan is still Blenheim for the WWI airplane show, then up to the North Island to drink beer with the local punk rockers. My Kentucky moonshine should've shown up by then, and I still have the banjo. Plus, Marletta, the last girlfriend who still insists she wants to ride round the world with me, sent me some Marshmallow Peeps and a 6-pack of Pabst Blue Ribbon. Well, 5 beers since she drank one of them.
I'm off to Japan for about 3 weeks. I'll apply for jobs and return to California. Once you're over 30, it's hard to get a work visa in most countries. Although Japan doesn't care. But in Japan, they have to hire you outside of the country. So I'll find a job in Japan (and do the paperwork in California) or I'll find a job in California or maybe Oregon for 12-14 months while I save up and figure out how to make it across from Asia to Europe in time for the 2006 Motogiro.
My credit card debt now equals my savings, and I don't want to put myself deep in debt while I find a job in Japan. Just hoping for $3,000 in debt overall when I find a job.
Don't worry, Chris. I'm not planning on kicking those hippies out of my apartment -- I have a place to stay while I'm in Sacramento. I'll bounce around staying on the couches of all my ex-girlfriends until they gang up and kill me by kicking my shins.
Thanks for all the birthday wishes and the donations. Ivan sent me $30 to buy a pair of pants with and Amy Monkeybutt sent me another batch of cash. Do all of you Grass Valley people know each other? Actually, I'm sure Amy Monkeybutt, or her family, knows Ivan. Grass Valley motorcyclists have to know each other.
Soriano, Bob B (not the Aussie Bob B who'll be working on my bike), Jay & Chikae Onyskin, and John Romano sent me cash too. I'll spend it all on fuel, a mirror, and a pair of pants and not the Guinness on my birthday, which was followed up by buying me a couple more pints on St Paddys Day.
--Uncle Monkeypoo
(this entry is closed for comments)
Posted by DaveSmith at March 20, 2005 03:37 PM