December 01, 2005
RIP Jim MacLean
Posted by DaveSmith
Jim MacLean took his own life Monday or Tuesday after the Thanksgiving weekend. His dad, Tom came up from Concord to check on Jim and found him. Jim's got a mom and dad, Ismini and Tom; a younger brother, Hal; countless cousins and Heidi.
There will be a memorial service at his house in Sacramento (6151 2nd Ave). The service starts at 1pm on Sunday, December 4th.
There will be another service for Jim in Portland (Jim's other adopted hometown), a week later. Club 21. 2035 NE Glisan (on 21st & Burnside). Saturday December 10 at 3pm.
If you'd like to send me pictures, I can post them. Jim's cousins are doing a photo site, that I don't know the URL yet. I'll post that here when I get it. Please share a story.
Jim, I don't know what to say. I can't say it wasn't unexpected, but everyone hoped it wasn't going to happen.
Jim was in Death Culture, Lazy Boy, The OtterPops, Laughing Jesus, Well Hung Monks, and The New Vulgarians. He's best known for Sewer Trout (songwriting, singing and his super catchy bass) and Elmer (songwriting, singing and guitar). Mostly punk rock bands from the 80s through the 90s. Elmer was a country punk band, but it was like Sewer Trout evolving.
Here's a link to a couple Sewer Trout songs.
I posted I'm a Hypocrite for the words:
But he stilled screamed - someone help me
Is someone there - does no one care?
But his cries just echoed through
The empty streets
Kerry Loewen, Jim & Hal's cousin Amber's husband, posted up the pictures he scanned for Jim's wake. Please take a look while you have some Sewer Trout or Elmer playing in the background.
http://www.kerryloewen.com/jim/
Sewer Trout played many an early Gilman Street show. Tales of Terror ruled the early 80s of Sac, but Sewer Trout (from Concord!) was the high point of Sacto late 80s punk. Concord and The East Bay just wasn't good enough when Jim and Hal had Cal State Sacramento sitting here waiting.
Jim went to grad school in Corvallis and mastered in Geology. I've looked up to him since the 80s, but I don't think he ever knew that.
Jim was a great roommate (and a great cook, too). We drove around Sacramento looking for a place. We went down every street in the grid just to say we went down every street in the grid. The Grid, by the way, is the section of town cut off by 2 rivers (Sacramento, American) and 2 highways (I-80, Highway 50). My sister left her apartment on 19th Street so we took it over. I've lived here since and once in a while Jim stops by to visit. It's a good porch for drinking cheap beers and staring at the scenery.
It should be pretty fuckin' obvious that I have no idea what to write about Jim. He had something special about him. Even now when I think I should be pissed off at him, I'm not.
Through Jim I met a great girl named Kristy Jo from Corvallis in another story that I've just now written and deleted. The story was about what I can remember about Jim and Sonja. The story talked about how long and hard I thought about going to grad school, marrying Kristy Jo and teaching Anthropology using Jim's troubles with Sonja as the centerpiece. Jim's girl troubles and divorce was much different than my girl troubles -- I've never been married for real. Which is to say, I don't know how to compare it with Jim in a way that would mean shit. I don't know if me choosing life as a slacker was a good thing, but you wouldn't be reading this otherwise. But anyway, the real life ending of the Jim, Sonja, Kristy Jo story was "punching a retarded calf in the head". It's hard to delete a story with that as a punchline.
I keep typing stories about Jim and delete them. What the hell do I say about the guy?
I think one of my favorite Jim stories was when I was on tour with Los Huevos back in 1995, I think. We picked up Jim in Oregon and he rode with us for a few days. Outside of a show in Olympia, Washington, Jim and I were being normal punk rock roadies: drinking beers and making fun of Larry Livermore. Larry was Potentate of Lookout Records and was hunting for boy toys using his band The Potatomen to lure them into his net.
Becky, a wayward mess of a trainwreck of a girl, came up and started hollering at Jim for "wrecking the scene" by drinking a Pabst out in the parking lot. I don't think she heard the pedophile jokes, but I'm pretty sure jokes of any kind were on the list of things Riot Grrls didn't think were funny way back then.
I wasn't allowed in Becky's house that night, and Jim hitched a ride elsewheres after the show (I hope mainly to get away from her). I don't think Jim and I even went inside to see the bands that night (what wonderful roadies we were).
No Kill I's first and last shows were with a Jim band. I'll miss the guy.
--Dave
Sewer Trout
I'm a Hypocrite
Late last night I heard a scream
It woke me from my pleasant dreams
I looked out the window and what did I see
A shaggy old bum down on the street
Screaming please - someone help me
It's so damn cold - I got nothing to eat
I just don't want to die in these
Unfriendly streets
I thought that I should let him in
But then I thought he might be dangerous
I gave myself a good excuse
Just another crazy person on the loose
But he stilled screamed - someone help me
Is someone there - does no one care?
But his cries just echoed through
The empty streets
I closed my eyes - went back to sleep
I closed my heart to a human being
I closed my mind to the fatal lie
I closed my soul and something in my died
All that I say - all that I do
It don't mean shit
I felt like a cold and heartless
Hypocrite

Photo taken by Jim's parents. Scanned by Michelle Barnhardt.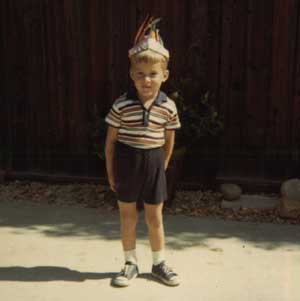 Photo taken by Murray and provided by David Hayes. This is the Gilman show when the band was running for president.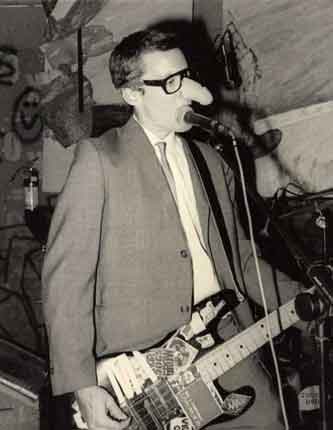 Photo by Icki in Florida, March 1998.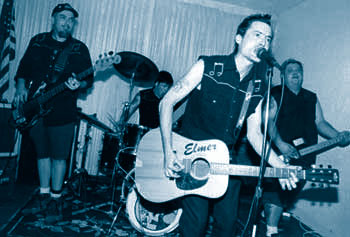 Jim, Dan (from The Flies) and Hal.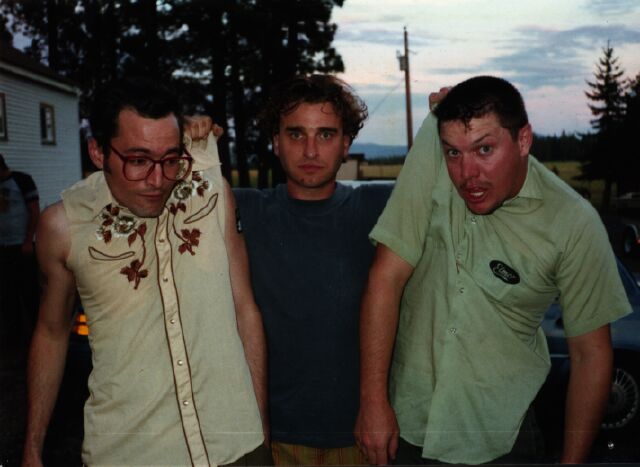 More pictures from David Hayes. These images will enlarge if you click them.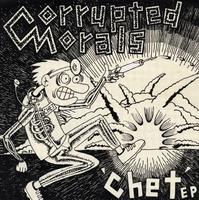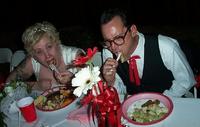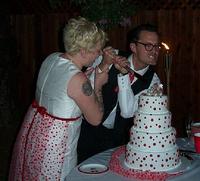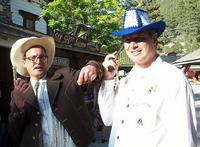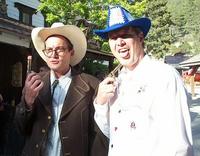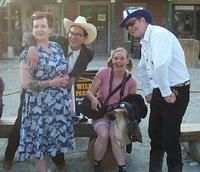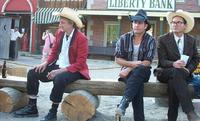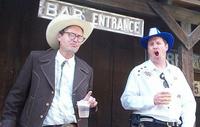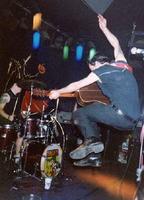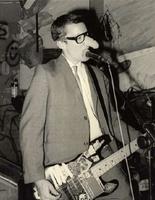 Pictures from Mooch and Barbara.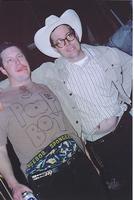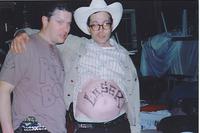 Hal, Ground Chuck and Jim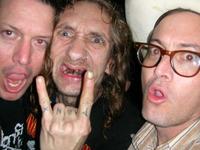 Craig Ums put in a picture of Jim with Tasha and Roan Ninja (I think) in the background.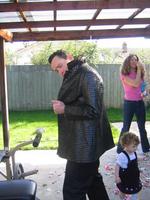 Kerry Loewen took a picture of Jim's geetar at the wake. Amber MacLean sent it my way.

Posted by DaveSmith at December 1, 2005 02:17 AM | TrackBack