July 16, 2008
India, sir! (and a bike change)
Posted by gornzilla
The first thing I heard when I showed up, by the custom's officer no less, was, "That's a handsome moustache you have, sir!"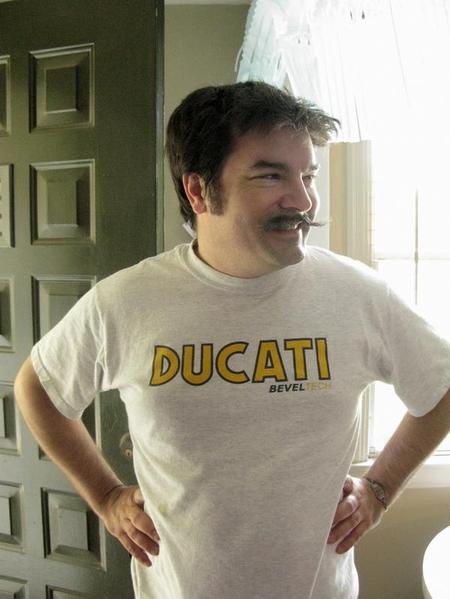 I show up after 28 hours or so of travel time. Everyone has horror stories about anything that more than 10 miles from them so you mostly hear the worst.
At my Go Away! party, I hear about Brian's dad who went to India and had his luggage stolen at the airport, was ripped off by the cabbie and then was ripped off by police. Instead, I show up, use the phone for a 5 rupee call, paid with a 100 rupee bill and was given 115 back in change. I was trying to figure out what the scam was but it was an honest mistake.
sObby, a guy I met on a vintage motorcycle forum, picks me up and buys me and my friend Jennifer dinner and about 8 beers. I shared my absinthe and a duty free bottle of Glenlivet with them.
Jennifer is a kooky girl I know from San Francisco who works for a pharmaceutical company. She's taking a long vacation from work. I met her and her first husband Matt in the mopar world. There's not many people who like the a-bodies (Darts, Valiants, early Barracudas) but they do too. Matt was the mechanic for Jello Biafra of the Dead Kennedys and does a great impression of him.
sObby gets me a hotel in the motorcycle district. I spend my time wandering around and am not surrounded by lepers and beggars which is what people told me to expect. The weather here is better than Sacramento and the air is cleaner. Of course, Sacramento is surrounded by fires and in the last few weeks there's been days that look foggy but it's smoke.
Just about everyone I've met has been super friendly but maybe they're just laughing at the goofball with a World War One fighter pilot moustache and a Ducati Beveltech t-shirt.
In order to take a motorcycle to India you need a piece of paper called a carnet. The carnet just says I'm not going to leave my bike in India and flood the 45 year old Italian motorcycle market.
My bike was registered in Australia and I had to jump through major hoops to get it registered and plated in California. Then pay a non-refundable $750 for the carnet application, which is only available in Canada. They don't issue one in the US and people in the US don't know what one is anyway.
The carnet people wanted a letter of credit from my bank for Canadian $5,000. That shouldn't be a problem since I've had an unused letter of credit for US$10,000 for years. My bank, the Golden One Credit Union, freaked out and thought I was pulling a scam. They wouldn't touch it but they did stall on telling me. I found out at 4:30pm on the Thursday before I left they wouldn't tell the Canadians that I had credit with them.
I spent most of Friday bank shopping but no one would give me a letter of credit with a new account. I pulled all my money out of Golden1 and opened an account with Wachovia mostly because they were really friendly. They still couldn't help me but they didn't leave me hanging.
Yes, this is way more than anyone should read. I say skip all this and check back later.
My bike is in Melbourne where Bob Brown just rebuilt the engine. He's been storing it in his shop for 3 years and another good guy Ralph was arranging shipping. I hadn't been able to get ahold of Ralph for a while and I was getting concerned. I found out he spent a few weeks in a hospital in Ecuador, then time in a Florida hospital and finally back to a Melbourne hospital where he's at now.
sObby tells me to ship the bike to Delhi because there might be problems bringing it in. India doesn't allow you to bring bikes in that are older than 3 years but maybe with some baksheesh it might work.
My sister Cary has to transfer Canadian 5,000 to a non-interest bearing account to make up for Golden One not willing to let Canada know I have a line of credit.
I just got email from the shipper in Melbourne saying that he can't ship the bike since it wasn't brought to Australia on a carnet. I'm sure there's ways around this but I think I've reached a stopping point. The bike named itself Christine and once again proved that no good deed goes unpunished. Sorry Ralph, sorry Bob and sorry Tony the shipper.
I'm going to buy a Royal Enfield 350 and try to figure out where I can store my Ducati in Melboure so it'll be out of Bob's hair. I'll figure out how to ship it to a non carnet nation (which is most nations) later.
It was a juggling match and I'm a worse juggler than a musician (which says a lot).
Posted by gornzilla at July 16, 2008 11:54 PM