S'more Random Photos
Posted by DaveSmith
Another batch of photos. I took one of my dinner of bread, cheese, pepporini and beer for Guy, but I'll have to post that one later. This one has roadkill photos as requested by Hal. Happy Birthday, Hal! I took a photo of a roadkill parrot which I'll post later. Pete Husing, I had a problem getting Pam's Xmas present on the way to Perth from Monkey Mia, but I'll find one.
It's Dec. 27th here and I'm heading south from Perth today.
I don't know why I didn't stop and take a picture when I rode through the scary bush fire part. Probably because it didn't seem like a good idea to stop while flames were crossing the road, and if I got my eyebrows singed off, I'd look extra freaky. I couldn't switch lanes to avoid the flames because there was a road train coming so it got pretty hot even though the fire missed me by a few feet. I was glad I still wasn't dealing with the leaking fuel tank.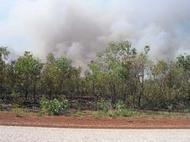 ***
Cannibal Cow eating veal. I wanted to get closer so you could see the dead calf but for some reason, the cannibal cow felt dirty and ashamed and didn't let me get close.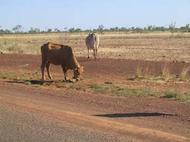 ***
Actual size of the croc in Normanton. It's sort of on the way from Cairns to Darwin. The sign says:
KRYS
The Savannah King
8.63 meters (28ft 4in) Estaurine Crocodile
Largest ever captured in the World
MacArthur Bank Norman River
Normanton
July, 1957
by Krystina Pawlowski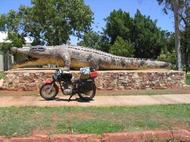 ****
Cows confuse my bike with the bikes the local cowboys (drovers or jackaroos in OZ) use to round them up. It took me a bit to figure out why the cows would stare at me when I rode by. I rode past several hanging out near the road. One jumped over a fence and one ran up a hill, then turned around and came out in the road to great me. I had the bike topped out on a good day and the speedo showed 70mph. A lovely speed to hit a cow. It was too much steak for me, so I swerved and have no idea how it missed me. After that, I started slowing way the hell down when I'd see them.
I started squishing their heads but the pictures I've taken while riding haven't come out. So I stopped and re-inacted me squishing the cow's head. Good thing I like Kids in the Hall, otherwise I'd have no defense. Later this day, I ran into a Canadian girl with her Aussie boyfriend. She was actually Canadian instead of an American saying they're Canadian which happens a lot. They gave me beer and fed me, which was nice.
Americans aren't well liked anywhere, by the way. People often ask if I'm Canadian and when I say I'm American, I hear how much Americans aren't liked. Mostly from other foreigners, sometimes from Aussies. I've also been asked if I was Scottish and I've never heard how much the Scots aren't liked.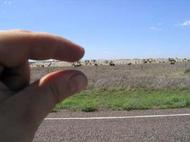 ***
They sell home brew in all the grocery stores.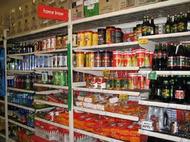 ***
A bit of one of the bombs the Japanese dropped on Darwin. I don't know if this one killed anyone. Someone found the piece and it's on display.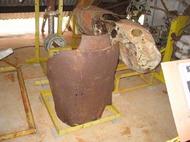 ***
Camping at Lees Point out in Darwin.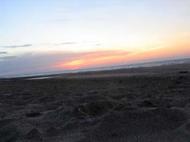 ***
I stopped at a rest stop and met Masato from Japan. He's riding a Suzuki 200cc bike around Australia with a cruising speed of 60/kph. We camped out at the tourist information booth in Port Hedland. He's visiting all the Australian National Parks that he can in 6 months.
***
I tried to get a picture of Masato riding but it's hard taking photos while riding. It's a weird bike. It's got a rear sprocket like a dirt bike, and has HUGE wide tires that look like they'd be good for riding on sand, but it's a street bike. I've never seen a rear tire so big but Masato says it's a common bike in Japan. I'll have to find out why they're designed like that in Japan. The language difference between Masato and I was too much to find out from him.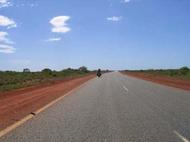 ***
Me, at the Millaa Millaa Falls. I always thought these falls were on a Hollywood studio lot. I didn't know they actually existed. It's probably too hard to tell from the photo, but you've seen these falls before if you've watched teevee. Usually in make-up ads.
***
The propellors and engine from a plane that crashed in WW2. Some guys were out looking for booze and girls and they ran out of gas on the way back. One person was killed and the survivors "borrowed" some horses to ride back to the base. It fit in nicely while I was reading Catch 22.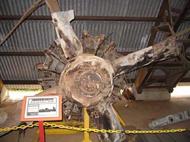 ***
Hawks here are close to vultures. I'd see a few circling looking to dive down on food, but most were eating roadkill. This one became roadkill.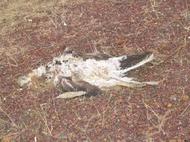 ***
I ran over a monitor lizard (goanna in Australia) leaving Monkey Mia. This one wasn't it but it's still a roadkill lizard.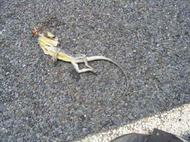 ***
A lot of the roads in the Queensland outback are just one lane. I'm on the paved road that circles Australia, by the way. When I'd see a roadtrain coming, I'd pull off. If I stayed to the side, the roadtrain would've had to stay to its side and the rocks it would've tossed would've broken my headlight. Plus the rocks on the road would get thrown up by other vehicles and could break windshields. I've seen lots of broken windshields on the side of the road.
***
Most of the road was 2 lanes. I'm out in the outback here and my knees were killing me. So I stood up. My tankbag fell off and bounced down the road at 60 miles per hour. As I slowed to circle back for it, my mirror bounced off and was smashed. I put my bag back on and rode a few more miles.
Tried standing up again and the bag bounced off again. Circled back and went on. Then I noticed glass sticking out from a busted jar of pesto (it doesn't turn sour like normal pasta sauce would). I pulled out the glass and realized my leatherman tool was gone. It bounced out of the bag. I've seen the same looking road for days but decided to circle back to see if I could figure out where the last spot my bag fell off. No idea how I found the leatherman, but I did. Good thing because it comes in handy.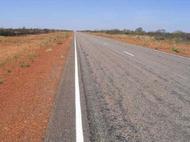 ***
In Darwin, I wandered around looking at WW2 battle sites. I saw an open suitcase on the side of the road so I peaked inside. Right on top was a vibrator package. Just like something I'd expect from a movie. I didn't see the vibrator though, but I didn't pick through the suitcase either.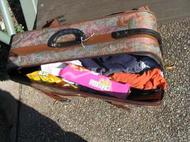 (this entry is closed for commenting)
Posted by DaveSmith at
05:44 PM
|
Comments (12)